WASHINGTON, DC | March 17, 2014 - This week on BIZ+SOCIAL, we bring you the best from New Global Citizen, Devex, The Diplomat and more.
GLOBAL PRO BONO
At PepsiCo and its philanthropic arm, the PepsiCo Foundation, we've had some wonderful opportunities to work and partner with organizations that are dedicated to promoting the economic and social wellbeing of women and girls around the world. One of our newest partners is Heifer International South Africa, which is closely linked to Heifer International, an Arkansas-based organization with a global presence. The Heifer mission is to "work with communities to end world hunger and poverty and to care for the Earth." This month, eight PepsiCo associates – all participants in the company's PepsiCorps program –traveled to Limpopo, the northernmost province of South Africa, to help Heifer begin the Blouberg Project, a sustainable agriculture program designed to improve living conditions for some of the region's poorest residents, and to help make them self-reliant. The Limpopo province suffers from high unemployment and is heavily affected by HIV/AIDS. Many of the region's men have died from AIDS or moved to other parts of the country in search of jobs. "The wives and children they leave behind, many with HIV/AIDS, very often don't have the necessary skills and education to be employed," said John Allen of Heifer International South Africa. "So we help by training them to become better farmers." Read More...
IMPACT & INNOVATION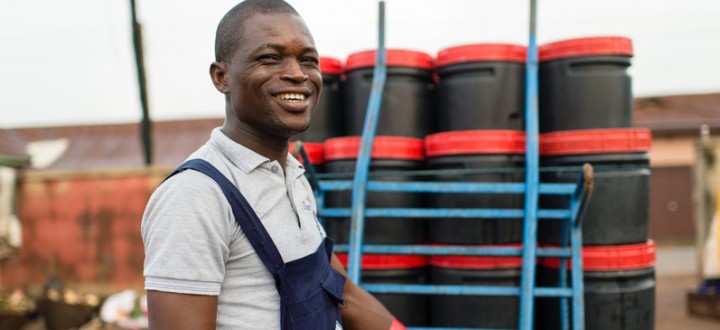 How many times have you thought about what happens when you flush the toilet? If you're like me, the answer is never. In most developed countries, a quick toilet flush can make a thousand tiny disgusting problems disappear in an instant. In emerging and frontier markets, the sanitation business is completely fragmented. Even in homes that do have toilets, the process of human waste elimination is not straight forward due to a lack of basic infrastructure. First, a toilet must be installed. Then, someone must empty the waste, which must then be taken somewhere, which unfortunately can often mean in the countryside, river, or sea. According to Andy Naracott, the Manager of WSUP Enterprises, the system is broken—or non-existent—which means the system is ripe for market innovation. Andy is knee deep in the world's sanitation struggles. Committed to catalyzing change in the business, Andy recently relocated his family—his wife and three children—from London to Nairobi to launch Water & Sanitation for the Urban Poor (WSUP)'s new Division, WSUP Enterprises. From an early age, Andy understood the business potential around water and sanitation—his father ran a luxury mobile toilet business serving the UK's event and hospitality industry. Read More…
LEADERSHIP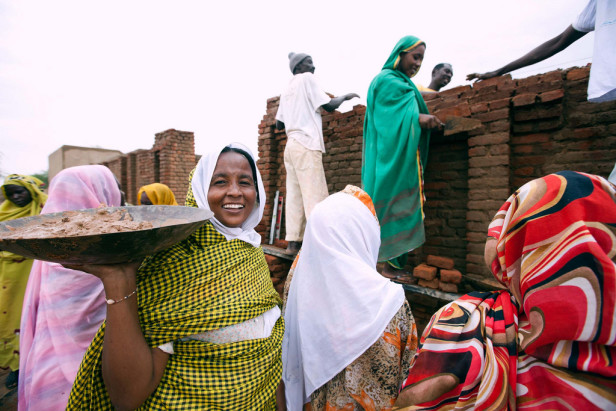 A global snapshot of today's top political leaders reveals that only one out of five national parliamentarians is female, and there have only been some 20 women elected head of state or head of government. The exclusion of women from the highest echelons of power in the formal political sphere is glaring, and it's in stark contrast to the role women actually play in building communities around the world. Despite legal impediments, cultural norms, household responsibilities and child rearing — and even without access to education — many women have broken glass ceilings in their communities and taken on leadership roles in building peace, resolving conflict, addressing gender-based violence, and improving public health and education. Here are several innovative approaches #SheBuilds Communities — and ways the international communities can assist. Teresita and Gemma, two mothers in Manila's Pandacan district, could no longer remain apathetic toward regular incidents of child abuse in their community. They mobilized parents to form Bantay Bata sa Komunidad, initially with the objectives of preventing and responding to reports of child abuse. This commitment kept them away from home late at night and during weekends, a radical departure from the traditional duties of mothers in the Philippines. Read More…
CITIZEN DIPLOMACY
Last week, the U.S. government released its 2015 budget request for diplomacy efforts, ringing in at $46 billion. While this funding covers everything from AIDS prevention in Vietnam to peacekeeping in the Congo, there is one sliver of the budget that deserves more attention: the roughly $1 billion set aside for "public diplomacy" and "citizen exchanges." Despite its lack of buzz, this funding – which amounts to only around 1/500th of the defense budget – figures to be one of the most important investments in expanding U.S. global influence and innovation for years to come.Across the globe, nations that invest in people-to-people diplomacy are better positioned to reap the awards of the information economy. With advancements in communications technologies, nations would be wise to bring their  citizens into the fold, particularly through international exchanges in fields like entrepreneurship, science and technology. If embraced, people-to-people diplomacy could unleash a new wave of innovation and economic growth. But while it sounds simple and easy (and it is), the problem is that most politicians don't support it. Far from an economic silver bullet, the very tools that can be used to bring nations and people together can just as easily be used to grind government to a halt. Take, for instance, the polarization gripping Congress. People and politicians can communicate better than ever before, with little to show for it. Read More…
ENTERPRISE DEVELOPMENT
Every Mozambican has an opinion about the natural gas deposits off the coast of Cabo Delgado. "I remember when Mozal came to town and all of Maputo thought they were going to have a new job, and a new car," says Eduardo, a taxi driver in Maputo. "I also have family in Tete and they thought that of course the discoveries of coal were going to mean brighter days. Now look at that mess." For Eduardo, Mozambique's newly found natural gas deposits promise only the disappointment that the earlier discovery of coal visited on his homeland. In a country so plagued by underdevelopment, illiteracy, and a lack of education, my cab driver from the airport to the hotel is perhaps the best spokesman for the missed opportunities extractive industries have thus far inflicted on this nation. The coal projects in Tete have become all too well-known for the difficulties caused by poorly executed resident resettlement and a failure to generate jobs and business opportunities—particularly for those living closest to the mines. For him, the new discoveries bring only an overwhelming sense of déjà vu. Some with an eye towards the environment are concerned about the exploration's potential impact on their pristine northern coastline and fisheries. Others, especially youth, express sincere excitement at the potential for improved economic prospects and livelihoods that liquefied natural gas, or LNG, can yield. Read more…
MORE
PYXERA Global Announces Annual 5th International Corporate Volunteerism Conference
Live from New York: Good News for Women Entrepreneurs
Inclusive Business or CSR — What's More Effective for Development
Human-Centered Design and the Last Mile
The New Global Citizen chronicles the stories, strategies, and impact of innovative leadership and international engagement around the world. This is the world of the new global citizen. This is your world.