WASHINGTON, DC | October 20, 2014 - This week on BIZ+SOCIAL, we bring you the best from the New Global Citizen, Devex, The Economic Times, and more.
GLOBAL PRO BONO
After almost 20 years as a successful leader in marketing and communications, Linda Whalen, the Brand and External Communications Leader for EY's West region, decided to do something different. She took on a two-month assignment in Chile helping to refine the marketing strategy and plan for Buscalibre.com, an e-commerce portal. For Linda, the experience was eye opening. "It helped me to expand my international business and cultural awareness." And, the Chilean enterprise obtained the benefit of world-class consulting services at no cost. Onuwa Uzor, a senior manager in EY's Transaction Advisory Services practice in Atlanta, spent seven weeks in Brazil supporting Pixel Labs, a developer of interactive cosmetic technology solutions for point of sale and online channels. He helped Pixel's management team better understand their needs while developing sustainable solutions for growth and success. "Although I had never worked in a start-up environment or in Brazil before, I was able to outline best practices for production planning, market research, and developing a framework for considering new clients." While these business approaches are typical for most well-established companies, such practices can be the difference between whether a new business will successfully scale, or fail. Read More…
IMPACT & INNOVATION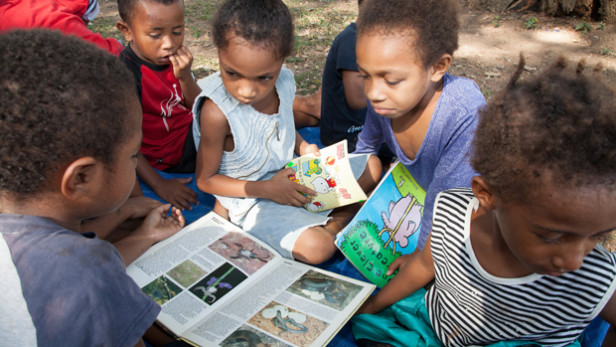 As the international development landscape is changing, all stakeholders agree that technology can — and will — play a central role, for instance, when delivering aid to far-flung regions. Take the case of Papua New Guinea, still lagging behind in its development indicators with escalating fears that it will also fail to achieve targets for the Millennium Development Goals. Aside from health, quality of education in the country's most remote areas remains perennially low. Here is where technology can fill in the gap. VSO International has pilot tested a mobile phone intervention project called SMS Story in Papua New Guinea's most inaccessible rural communities. Funded by the Australian Department of Foreign Affairs, the project to help teachers plan their daily lessons by through text messages has seen a 30 percent improvement in the students' reading comprehension abilities at a very low cost of about $1 per child in just 100 days. "It's a system that works very well in an environment that is resource-poor and the teachers are living in very remote areas," Richard Jones, VSO's senior program manager for education, told Devex. "In [Papua New Guinea's] case, the communities are remote in terms of logistical reach, but fortunately, mobile coverage is good." Read more…
LEADERSHIP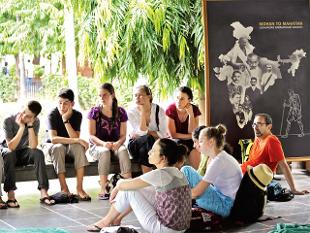 It's going to be a busy month for Mamtha Sharma, country head for Corporate Social Responsibility (CSR), IBM India. As we write this, a contingent of nine IBM-ers from nine different countries is descending on Barmer, Rajasthan, for an agri-development project that aims to increase the yields of pomegranate and other fruits that grow in this arid, oil-rich district. The team is a part of IBM's Corporate Service Corps (CSC) initiative, which sends middle management executives to the far corners of the world to lend their skills to social development programs. The nine in Barmer — from the USA, UK, Philippines, Australia, Canada, Hungary, Brazil, Argentina, Israel — have been preparing for months, but a little administrative hand-holdingl helps in the initial stages. One of Sharma's jobs is to set the ball rolling by introducing her team to the people from Bharatiya Agro Industries Foundation and TechnoServe, the two NGOs they will be working with. In the course of the next four weeks, she hopes everyone would have gained something from the project. "Our people benefit as much as the NGO, by working in a multi-cultural team in a place they have never been before. IBM gains in terms of leadership development and the NGO benefits from the knowledge and experience IBM brings," she says. Read More…
ENTERPRISE DEVELOPMENT
I paused for a moment in the no-man's-land of international travel, staring ahead at the double doors marked "No Re-entry." The sign might as well have read "No turning back now." I walked through those doors, and immediately every sense was activated by unfamiliar sights, smells, and sounds. As I entered the main airport terminal in Lima, Peru, I felt overwhelmed, and frankly a bit frustrated that, despite eight years of studying Spanish in high school and college, the only word I recognized amid the conversational chaos was "taxi." I assumed my studies of Spanish language and culture had prepared me to fly to South America on a one-way ticket. I couldn't believe how wrong I had been. As I stood in the Lima airport, I realized that the days of being 'saved by the bell' were behind me. This was full-on immersion, and the only way to navigate it was to jump head first into the unknown. What I did not anticipate was how inspired I would be by everything I saw and experienced. Four months and six countries later, I had a new appreciation for the human spirit, and for the extraordinary abilities of ordinary individuals. In Peru, I watched women carry heavy baskets of produce on their heads for miles, apparently unfazed by the weight and lack of a visible destination ahead of them. Read more…
CITIZEN DIPLOMACY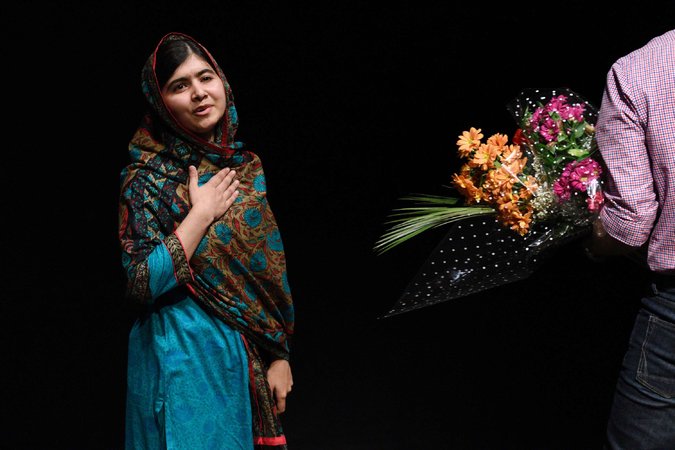 "Who is Malala?" shouted the Taliban gunman who leapt onto a crowded bus in northwestern Pakistan two years ago, then fired a bullet into the head of Malala Yousafzai, a 15-year-old schoolgirl and outspoken activist. That question has been answered many times since by Ms. Yousafzai herself, who survived her injuries and went on to become an impassioned advocate, global celebrity and, on Friday, the latest recipient of the Nobel Peace Prize alongside the Indian child rights campaigner Kailash Satyarthi. Yet since that decisive gunshot in October 2012, Ms. Yousafzai and her compelling story have been reshaped by a range of powerful forces — often, though not always, for good — in ways that have left her straddling perilous fault lines of culture, politics and religion. In Pakistan, conservatives assailed the schoolgirl as an unwitting pawn in an American-led assault. In the West, she came to embody the excesses of violent Islam, or was recruited by campaigners to raise money and awareness for their causes. Ms. Yousafzai, guided by her father and a public relations team, helped to transform that image herself, co-writing a best-selling memoir.And now the Nobel Prize committee has provided a fresh twist on her story, recasting her as an envoy for South Asian peace. Read More…
MORE
Engaging Youth to Combat Ebola
WEBINAR: Accelerating Social Impact in Skills-Based Volunteerism: Spotlight on Best Practices in Citizen Diplomacy
What Does Corporate Social Responsibility Mean for the Technology Sector?
The New Global Citizen chronicles the stories, strategies, and impact of innovative leadership and international engagement around the world. This is the world of the new global citizen. This is your world.