WASHINGTON, DC - July 8, 2013 — This week on BIZ+SOCIAL, we bring you the best from the New Global Citizen, The Case Foundation, SSIR and more.
GLOBAL PRO BONO
Being globally minded is no longer a professional choice. It's a business requirement. To achieve global progress and shared value solutions to the big problems that are facing our planet—challenges such as food security, economic development, access to clean water, and adequate healthcare distribution—every corporate Joe or Jane must transform to meet the new standards of global leadership. Those who meet or exceed these expectations will lead the world to a better future. Those who do not are likely to fall behind, and, inevitably disappear. But who is the enigmatic global leader? As leadership development pedagogy has grown, the true meaning of global leadership has become increasingly vague. Read More…
IMPACT & INNOVATION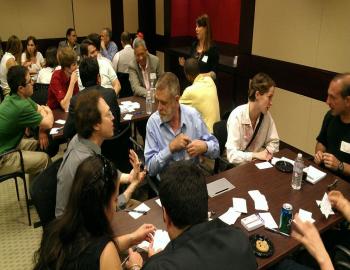 Last month GSummit stopped in Washington, DC for GSummitX, a Meetup event designed to educate the masses about the benefits of gamification."Gamification?" You say. "I think I've heard of it but…" Blank stare.It's this response that leads Gabe Zichermann, the author of The Gamification Revolution and two other books, to lead workshops on the topic.Psychological understanding of gaming is changing the way organizations and even governments motivate positive behavior change and compliance. To illustrate the point to his audience, Gabe called out the efforts of the Swedish government to lower driving speeds with Speed Camera Lottery, Domino Pizza's attempt to grow its market share with Pizza Hero, and Nike's business model transformation that was powered by the introduction of Nike+. Read More…
LEADERSHIP
Niccolò Machiavelli pondered that timeless conundrum 500 years ago and hedged his bets. "It may be answered that one should wish to be both," he acknowledged, "but because it is difficult to unite them in one person, it is much safer to be feared than loved." Now behavioral science is weighing in with research showing that Machiavelli had it partly right: When we judge others—especially our leaders—we look first at two characteristics: how lovable they are (their warmth, communion, or trustworthiness) and how fearsome they are (their strength, agency, or competence). Although there is some disagreement about the proper labels for the traits, researchers agree that they are the two primary dimensions of social judgment. Read More…
CITIZEN DIPLOMACY
We hear every day that our 21st century world is more global and interconnected than ever.  We know that our economies are dependent on one another and that we can share information in the blink of an eye.As an alternative to collecting "friends" on social media and boiling every thought down to 140 character sound bites, many of us wonder how we can harness the power of this new interconnectedness to truly engage in meaningful interactions that lead to a deeper understanding of people and cultures different than our own.Advocates for citizen diplomacy believe that every individual has the right and responsibility to interact at a person-to-person level with others around the world to improve relationships and enhance mutual understanding across cultures. Read more…
ENTERPRISE DEVELOPMENT
Allow me to pose a question that Socrates may have asked: "What is ethics, and how is it related to the conscience of our society?" Though philosophers around the world no doubt have erudite answers to this question, people with little, if any, knowledge of philosophy use conscience to define ethical norms. But the key here is that our conscience is evolving. Ethics may seem slow to change at times, but it is an important guidepost for the development of our society and always a precursor to the laws we develop. It is quite possible that we are fully within the domain of our laws and yet unethical. Read More…
 MORE
 No Action is Too Small: Everyday Leaders are Changing the World
Will Barack Obama's Power Africa Turn the Lights Out on Energy Poverty?
India: Look South for Ways to Bring Banking to the Poor
 The Emergence of a New Generation of Business Innovators
Getting At The One True Rule Of Innovation
The New Global Citizen chronicles the stories, strategies, and impact of innovative leadership and international engagement around the world. This is the world of the new global citizen. This is your world.