In celebration of #PBW14, Amanda MacArthur, Vice President of Global Pro Bono and Engagement at PYXERA Global, shares how skills and pro bono create meaningful impact. 


As a number of global pro bono programs shed their infancy and begin to reach a more mature stage in the next few years, I am continually encouraged by the increasing willingness and, even, enthusiasm of corporations to work together with the common goal of implementing lasting solutions in underserved locations.
In global pro bono programs, corporations contribute the talent and expertise of their employees, who cross international borders to support the work of the public, social, and sometimes even the private sectors, and contribute solutions, large and small, to social challenges. These programs truly represent what PYXERA Global calls "purposeful global engagement"—work that goes beyond checkbook philanthropy and engages the hearts and minds of corporate employees while delivering both business and social value—creating shared value.
At PYXERA Global, we have been carefully tracking the evolution of the global pro bono sector since 2009 when we held the first conference for the global pro bono community and conducted our first benchmarking study.
Over the years, cross-sector partners have developed a proven model that drives the creation of shared value through global pro bono. However, there remain only 39 companies doing this work at any scale—which is just not enough. It is not enough to affect change within a business community that remains hesitant to invest in rapidly growing markets because of outdated misperceptions, and it is not enough to really move the needle on complex global challenges like poverty, global health, the environment, access to water, technology, and education.
There is reason to believe that global pro bono will continue to gain in popularity and programs will become increasingly strategic and complex. One of the more exciting trends highlighted in the 2014 survey was the growing interest in partnering with other corporations—a full 75 percent of responding companies either have partnered or would like to pursue partnership with another company. It has been interesting over the years to see how these partnerships have evolved—from parallel projects—where there were participants from different companies in the same cohort but working on different projects, to fully integrated teams with employees from two or more companies working together on the same projects at the same time. PYXERA Global has also seen an increase in more strategic project development. A team from one company might work with a local client on a specific topic and prepare the way for a team from a second company that brings different expertise to follow up.
From a development perspective, this is one aspect of this work that is especially exciting. Bringing the diverse expertise of the private sector to bear in a strategic and concerted effort to systematically address some of the tough global challenges facing the world presents enormous opportunity to transform lives.
That said, it is not unreasonable to ask what can truly be accomplished in the relatively short period of time that corporate employees are deployed on their pro bono assignments. While there are a number of examples of truly impressive results being delivered by teams or individuals on pro bono assignments, as a practice, one surprising critical success factor is consistently sited by local clients. Time and again, local clients say that as much as the final deliverable was beneficial, it was the process-based approach utilized that will change the way they operate.
Process is the root of all social change
Process is so often missing in organizations that are struggling to meet what can seem to be overwhelming need. This is only multiplied in underdeveloped markets where scarce resources—financial, human, and other—often force organizations to react to an emerging operational crisis that takes away from their ability to address their core mission. The private sector excels in establishing and maintaining process—anticipating what might happen and putting in place the steps to address it appropriately before problem has the chance to develop.
The challenge is to find "process improvement" fulfilling, and to recognize that programs focused in this way deliver greater benefits to all involved parties—host organizations, countries and volunteers alike.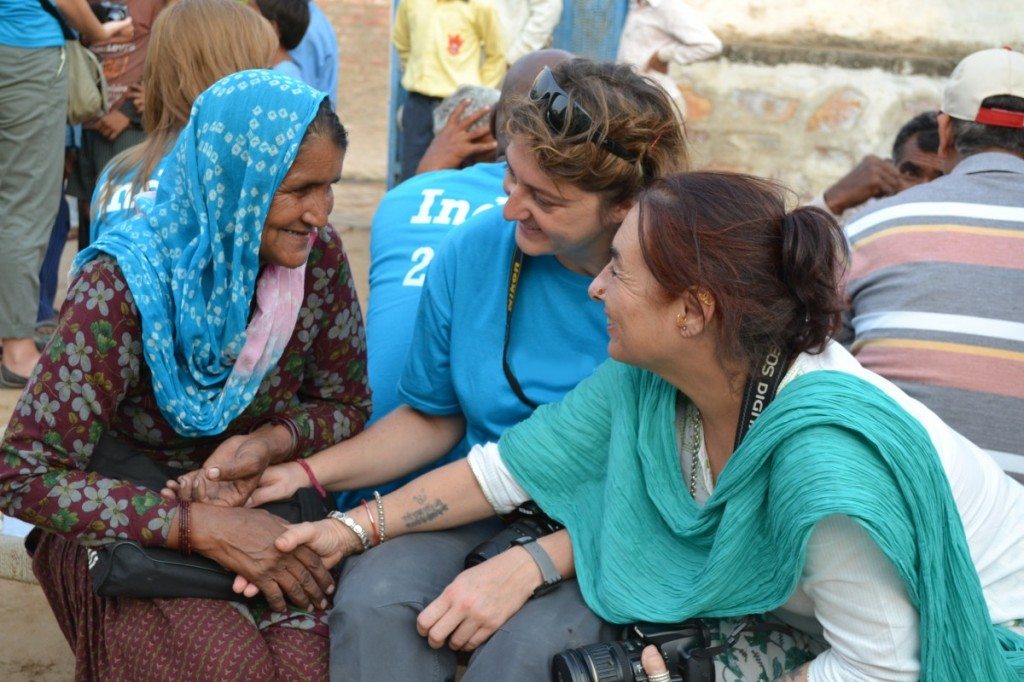 Global pro bono does not only transform lives "on the ground", it has a direct and measurable impact on the employees who participate in these programs. For the employee participants themselves, the phrase "life changing" has become a common refrain.
Global pro bono programs help better connect employees with each other, with their company, and with the people they work with while on assignment. The benefits are evident at the employee, the enterprise and the local client levels. This triple win impact on participants, communities, and the business is consistently noted as a key driver by program managers.
Measuring the benefit of Global Pro Bono
Looking specifically at IBM and its Corporate Service Corps' survey it conducted of employee participants in its six-year-old program, widespread impact is clear. 97 percent of participants would recommend the experience to a colleague for the purposes of leadership development, another 88 percent reported an increased ability to listen for and understand client's needs, 90 percent reported a better understanding of business' role in society, and 76 percent of those who participated in IBM's global pro bono program reported that they were far more likely to stay with IBM for the long term as a direct result of their assignment.
These programs also cultivate skills and insights which employees can apply when they return to their corporate careers. More than 90 percent of managers of those who participated said that their employees had enhanced cultural awareness, a key soft skill that IBM had determined was critical to their future leaders. 73 percent of managers also noticed better leadership skills as a direct result of the four-week deployment program and an impressive 78 percent of managers reported improved attitude and motivation post-Corporate Service Corps—creating positive results for both the corporation's bottom line and the well-being of their employees.
Fostering Leadership
Global pro bono programs have always been about developing global leadership competencies. Increasingly, the leadership sweet spot within the practice is in improving the ability of strong performers to learn from their environment and adapt to develop new approaches.
This spring, a PepsiCorps team was working in South Africa with Heifer International. A component of the project was to work with farmers to possibly develop a beekeepers association. The challenge was that the idea of promoting beekeeping had come from a feasibility study on potential income generation sources—none of the farmers actually knew anything about honey production.
The PepsiCorps participant, Mike, who also knew very little about bees, took it upon himself to become the designated bee expert. By the end of his four weeks in the country, Mike had worked with the farmers to create a beekeepers' association and had even created a tool for a local NGO to assess the region for additional beekeeping activities.
In today's economy, everyone must learn to be beekeepers to some extent—to learn a completely new skill from scratch and work with others to develop an approach to make it work for the challenge at hand. Global Pro Bono provides the space for this to happen as participating employees are removed from their comfort zone and challenged to stretch their soft and hard skills.
Driving Innovation 
As people with different skills and world experiences come together to solve problems, innovation erupts and drives program impact. In October 2013 and March 2014, SAP sent two Social Sabbatical teams to support the City of Porto Allegre. The project was centered around a municipal system that allows citizens to report concerns and problems. The team evaluated the user experience, and the process that happens internally once a citizen reports a problem. The system wasn't fully integrated with all the departments and the requests were not being tracked. Solutions were delayed extensively and sometimes got lost internally. The first team focused on a couple of the services, including fallen tree clean-up and flood control. They created process maps and gave recommendations for a better process to improve efficiency and transparency and reduce costs.
The second team looked at what the city hall had done with implementing the first team's recommendations and identified the costs associated with putting the plan fully into action. In just two months of pro bono consulting, two teams of three people each were able to help put systems in place that have the ability to improve the lives of all of the residents of Porto Alegre—over 1.5 million people.
Global pro bono programs enable change to happen in multiple directions. Participants develop a new perspective, and are encouraged to stretch their talents, while hopefully taking a piece of the culture they were experiencing back to their daily lives. Local clients not only benefit from access to skills that might otherwise be out of reach, but also have an opportunity to change their perspective and approach problems in a new way.
Corporations, governments, and local clients must continue to create opportunities for collaboration and partnership through global pro bono and other engagement. Doing so is the most effective way to address critical challenges and create meaningful impact in emerging communities and markets around the world.

Amanda MacArthur is the Vice President of Global Pro Bono and Engagement at PYXERA Global where she leads the organization's Global Pro Bono and MBAs Without Borders programs, as well as the Center for Citizen Diplomacy. In this capacity, Amanda designs and implements corporate social responsibility programs for the public and private sector focused on skills-based volunteerism in emerging markets, leadership development, and sustainable economic impact. Most recently, Amanda played a key role in designing IBM's Corporate Service Corps, while overseeing Global Pro Bono programs for PepsiCo, Pfizer, FedEx, and several others.