Placing my hands together in front of my heart, as though in prayer, I bow: "Sa-wat-dee-ka."
In hopes of getting it just right, I had practiced with a Thai colleague the traditional greeting I now offered to the Minister and Deputy Chief of Mission from the Royal Thai Embassy. Mr. Saroj Thanasunti was the honorary emissary representing the Kingdom of Thailand at the Ambassador Lunch, an annual highlight of the Global Ties U.S. national meeting.
I should not have been surprised when Mr. Thanasunti returned my greeting with a firm American-style handshake and a warm smile.  Our mutual desire to put each other at ease through even a small expression of cultural appreciation is for all diplomats—government and citizen alike—the very foundation of friendly relations and global fluency.  Our introduction was followed by a lively discussion of our respective work, and the important connection between formal government diplomacy and the way everyday citizens can use similar characteristics and activities to develop stronger ties among people and nations.
In illustrating the concept of informal citizen diplomacy, I gave an example of an interaction with a Thai traveler named Lek I met on a recent trip to Japan. Lek and I met while both trying to find our way to the bamboo forest in Kyoto, a serendipitous interaction that continued throughout the day over a winding walk to several of the most beautiful sites in Japan, culminating in a group dinner at a German beer hall.  It was a delightful day spent in good company, made possible only by each of our desires to learn about our shared world and to connect at a human level.
Citizen Diplomats, One and All
When someone is open to learning about new cultures and places, the possibilities for growth, innovation, and partnership are boundless. Such was the case for the more than 600 individuals who traveled from across the United States to attend the 2014 Global Ties U.S. annual meeting, in search of innovation and partnerships made possible by citizen diplomacy.
As I interacted with my fellow attendees at the conference, much of the energy and discussion at the five-day event seemed to circle back to increased collaboration in one form or another.  How might the entities that foster citizen diplomacy experiences across the nation and world make their work even more impactful through strategic cooperation with other non-profits, education institutions, government entities, and corporations?  What are the emerging opportunities to leverage individual strengths as part of a more powerful whole?  Indeed, with the right organizations and individuals involved, might we effectively stitch together the myriad of individual opportunities for citizen diplomacy into a continuum of global engagement?
The call for more impactful partnership was echoed by Stan Litow, IBM's Vice President of Corporate Citizenship and the President of the IBM Foundation, who provided the keynote address at the Ambassador Luncheon. IBM currently sends 500 high potential employees each year on international pro bono assignments, lending professional business acumen to NGOs, enterprises, and governments around the world while at the same time developing the leadership abilities of their top talent. During his remarks, Litow invited organizations from around the world to present the best project opportunities to IBM and help make their highly impactful international Corporate Service Corps program even more successful. He also challenged other Fortune 500 corporations to join the growing impact of corporate citizen diplomats around the world.
"Imagine if every Fortune 500 company sent just 100 employees a year on global pro bono assignments. Imagine the kind of problems that could be solved. Imagine the skills that could be shared. Imagine the enhanced perspective on society. Imagine how people would think about the role of the corporation in improving society. Imagine the real, significant value that could be built through citizen diplomacy that we could never accomplish through check book philanthropy."
Imagine, indeed. The majority of Global Ties U.S. conference participants were staff and volunteers that serve the Global Ties U.S. network of non-profit organizations, implementers of the State Department's International Visitor Leadership Program (IVLP) and other impactful citizen diplomacy initiatives across the nation. Also well represented were State Department personnel, alumni of the IVLP from around the world, and leaders from across public, private, and social sectors looking to network and share ideas with peers within the growing citizen diplomacy movement. After speaking with hundreds of fellow participants during the preceding four days as a conference sponsor and exhibitor, and noting the common challenges that could be addressed through more effective cross-sector collaboration, Mr. Litow's rallying call for increased private sector engagement in citizen diplomacy was an exciting and timely vision.
Creating a Nexus of Global Engagement
During the conference, we asked organizational leaders about their challenges, and how The Center for Citizen Diplomacy, a signature initiative of PYXERA Global that seeks to provide a common framework for citizen diplomacy efforts, might provide expanded services and resources to support their work. Many expressed a need for a number of The Center's service offerings.
Most notable, however, was the amount of interest in ways in which The Center might help foster more intentional collaboration between NGOs and other community entities, such as educational institutions, as a way to increase collective impact and to create a continuum of engagement across ages and levels of global fluency. There was a clear recognition of the opportunities for growth and impact through cooperation, and an expressed desire for education on how to connect with potential partners and facilitate impactful partnerships.
The Center is addressing many of these challenges through the upcoming launch of The Citizen Diplomacy Network, a program that provides promotion, networking, and resources to interested organizations engaged in citizen diplomacy work. Based on the feedback received from Global Ties U.S. conference attendees, our discussions in the days following the meeting have focused on ways we can continue to build on our initial Network offering to include fostering 'constellations' of cross-sector entities that would benefit from shared knowledge and resources within specific communities. The direction is clear:  organizations within communities where there is strong presence and interest in citizen diplomacy activity are ready to more actively connect, engage, and grow their impact through strategic collaboration.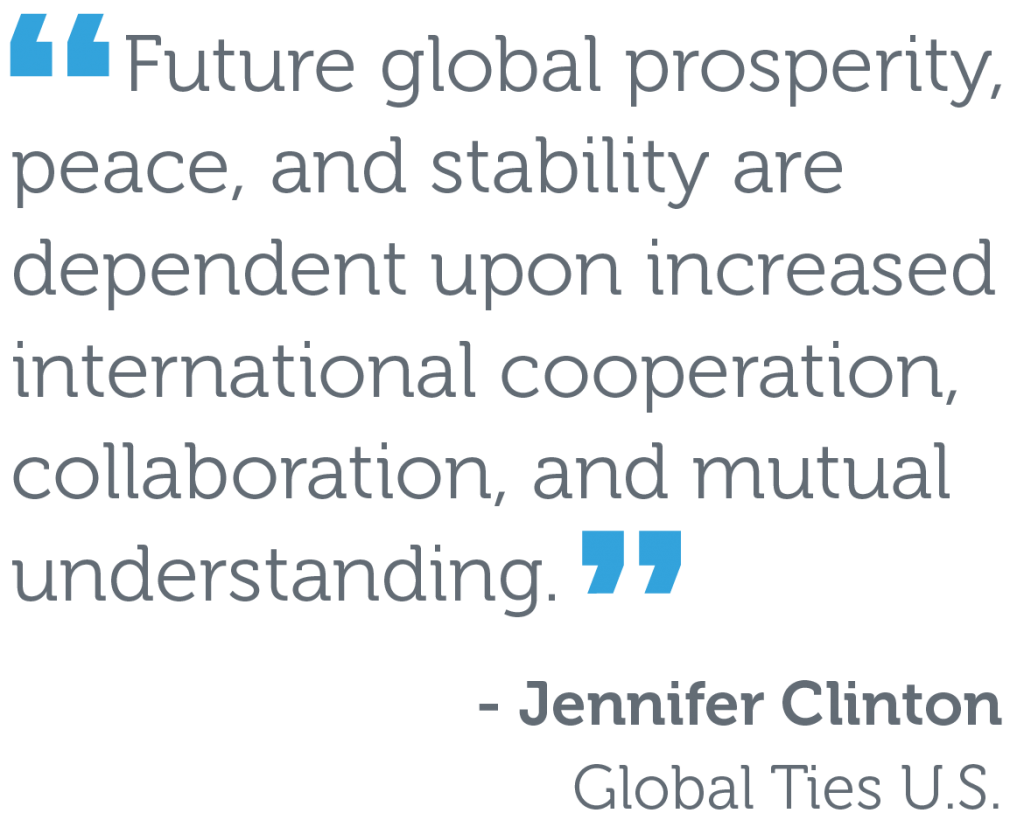 As Jennifer Clinton, the President of Global Ties U.S., recently wrote, "Future global prosperity, peace, and stability are dependent upon increased international cooperation, collaboration, and mutual understanding."
As I reflect on the seeds of collaboration sown during the 2014 Global Ties U.S. conference, I will remember with special fondness my conversation with the Minister of the Royal Thai Embassy over lunch. Mr. Thanasunti had made clear to me his enthusiasm for citizen diplomacy before we even touched our dessert, and in doing so, I noted how every conscientious interaction, however brief, holds the potential to build powerful networks and connections in support of what can sometimes feel like an intangible ideal.
Following the events of the Global Ties U.S. meeting, it is possible to believe that a true continuum of global engagement that is accessible to every individual anywhere, can be created through shared vision and the right partners. A culture of collaboration that empowers citizens to form meaningful relationships on behalf of their country has the potential to transform how each one of us views our role in the world and how individual actions are woven together into the fabric of larger social and economic impact.  After all, cultures don't interact, people do.

Diane Rasmussen is the Director of The Center for Citizen Diplomacy where she has served in several capacities since 2007. Her work is inspired and informed each day by her own international experiences and the stories of impact from people making meaningful cross-cultural connections right here at home and around the world.