Smartphones and the internet have made our planet byte-sized. It is no longer difficult, or even surprising, to imagine someone in Rio de Janeiro chatting, e-mailing, and teaming-up to collaborate with people in Shanghai, London, and Manila. Antiquated barriers to new ideas and innovative approaches are crumbling, giving way to a new normal: open source collaboration. Like every industry, the international development arena is harnessing the power of digital media and technology to solve decades-old dilemmas, like extreme poverty, in new ways.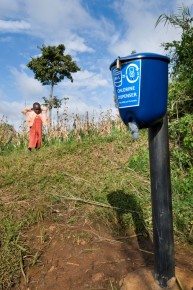 In low-income communities all over the world, there are students, entrepreneurs, and technologists with the potential to make significant contributions to the local economy and solve some of the country's most difficult challenges. Yet, they often do not have access to the networks, mentors, and funding they need to turn great ideas into reality.
To solve this, the development industry needs to harness real business intelligence. First, we need to see and compare what already exists, like the hundreds of cook stoves or solar lanterns, for example. Then, when making an award, like USAID's Development Innovation Ventures, compare applicants with existing solutions, and ensure that investment is going to the most promising innovation.
Second, donors need to think about holistic support beyond grants. Innovators need more than funding. They need support with business plans, partnerships and marketing. To make the most of their investments, the development industry should be looking at how to match innovators with the right resource at the right time.
Finally, The development industry needs to connect innovation supply and demand; ensuring that our beneficiaries or customers, from local government ministries to community members to local implementers, can see what their full range of options are and create demand for the specific services that are most necessary and effective. A demand-driven approach to development can help donors address real needs better, faster and more cost-effectively than ever before.
Recognizing the need for a more collaborative approach, USAID, Australian Aid and over 100 international organizations from across government, business, academia, and civil society are working together to create the Global Innovation Exchange: a brand and innovation-agnostic open-source platform that is flexible and responsive to user needs. The Exchange also aims to provide business intelligence and create a demand-driven investment approach.
The Exchange offers a solution that is at once ambitious and surprisingly logical: Develop a platform that connects bright, talented individuals worldwide to the big industry players offering funding and an opportunity for success. Funding opportunities on the Exchange range from awards and prizes to grants and seed funding, and sources also vary from the U.S. Agency for International Development (USAID), Grand Challenges Canada, and Australian Aid to international venture capital firms like Sawari Ventures and the Global Innovation Fund and corporate grants such as The Mitsubishi Corporation Fund for Europe and Africa.
The Exchange connects students, entrepreneurs, small businesses, and anyone else with a good idea, to global funding and markets as well as free talent and services around the world that can help them accelerate their vision. Although still in early beta mode, the site currently hosts more than 3,000 innovations, almost 3,000 collaborators, and $279 million in funding opportunities.
One of the Beta innovators is Appropriate Energy Saving Technologies (AEST) Limited, a social business enterprise of Teso Women Development Initiatives that manufactures and sells carbonized charcoal briquettes from recycled groundnut husks and improved cookstoves in Northeastern Uganda.
Currently, AEST is in the Market Growth stage of innovation. On its innovator profile page, AEST lists that they are seeking financial support to help purchase improved machinery, increase production space, and enlarge the skills and capacity of the marketing team to distribute its products and scale up. Three team members have Exchange profiles that enable interested collaborators to connect directly with their team. Individual innovator profiles like AEST's can help the development community better understand the unbiased and unfiltered breadth and depth of available solutions to specific challenges.
The Exchange makes applying and accessing resources easier, and exposes innovators to a larger support network. For innovators, the Exchange is a one-stop shop for finding funders looking for new, more effective approaches to solving humanity's greatest challenges—from USAID to Australian Aid and over 100 other partners on the Exchange. The Exchange can help innovators attract funding directly, without having to go through so many lengthy application processes.
Streamlining the process helps funders. Keeping track of the newest, most effective ways to fight global poverty can be exhausting and take resources away from actually funding the solutions. The Exchange allows funders to search, compare and evaluate thousands ideas at once. It can also streamline the vetting and due diligence process. Funders can search for innovations with references, evidence, reviews from product users, and validations from development experts. AEST, for example, currently has two funders linked to their Exchange profile—USAID and TEWDI. Additionally, by continuing to promote and update their profile, they can easily connect with any of the 59 funding opportunities currently posted on the Exchange that specifically target the African region, or the 23 opportunities directly targeting projects in Uganda.
The Exchange seeks to help innovators connect with the networks and resources they need to succeed and build synergies between innovators working in similar fields or locations. At the bottom of the AEST page, Exchange user Vanessa Leon posted a comment suggesting that the AEST team take a look at another East African cook stove initiative with an Exchange profile—IDDS Cookstoves. IDDS is looking to bring together a diverse mix of thirty people who have experience in using and manufacturing traditional, open-fire stoves, or any improved cook stove designs and technologies.
By promoting user interaction and collaboration, the Exchange creates a positive environment for collaboration and competition where anyone can compare different innovations, and where innovators themselves are constantly driven to iterate and pursue greater excellence for their solutions by knowing what else is on the market.
While initial collaboration on the AEST page came from a peer entrepreneur, anyone, anywhere can participate in the Exchange. The vision of the Exchange is a place where an MBA student in Singapore can review AEST's business plan, a marketing professional in Chicago can help strengthen the company's brand, and a Returned Peace Corps Volunteer from the Philippines can offer advice on scaling the approach to different parts of the world.
Through the Exchange, we can modernize international development and put beneficiaries at the center of decisions.  When local communities have access to technology that connects them directly to funders and other development resources, they can tell us directly what assistance they need. Creating direct dialogue through the Exchange and the innovation and technology it showcases can make development more demand driven.
You can join the Exchange beta today. Create a profile, explore partnership opportunities, or comment on a great idea like AEST's cook stoves.

Alexis Bonnell is the Division Chief of Applied Innovation and Acceleration in the U.S. Global Development Lab of USAID. Over her career, Alexis has developed and delivered over a billion dollars of humanitarian and development programming in over 25 conflict, post-conflict, and emergency countries, in almost every sector from education to stabilization, for more than 30 International Bi-lateral donors, 10 UN agencies, the military, and private sector. Alexis is leading the team around the new Global Innovation Exchange, a industry level platform to share all globally relevant development innovation.