The insights in this article are drawn from Weber Shandwick's Always-On Transparency Report, which explores how forward-thinking organizations continually share failures, lessons, and insider perspectives behind impact results.
Admitting failure isn't something most CEOs do, especially failure to reach a publicly announced goal. But Paul Polman, the CEO of Unilever, a Weber Shandwick client, has always charted a new path on the role that companies can play in addressing social challenges. Asked point blank if Unilever would successfully meet all the company's sustainability goals over the next decade, Polman answered honestly: "We won't." While some might find his blunt honesty in the face of direct inquiry unwise, Polman is part of a new wave of corporate leaders who are embracing an always-on transparency mindset.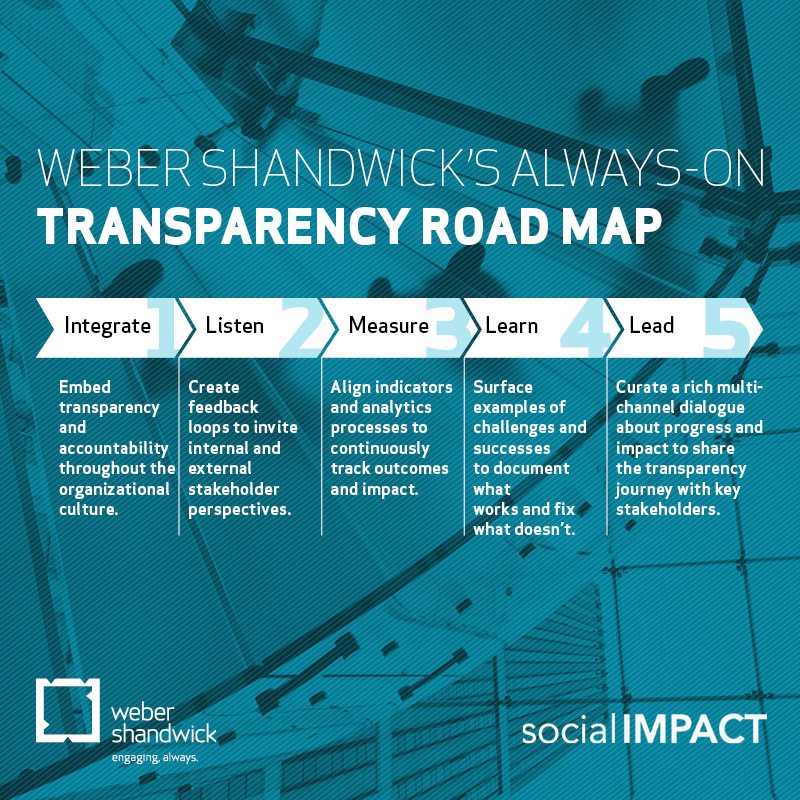 What is driving the demand for transparency? In the information age, everyone wants to know everything. Whether it's reading a Yelp review before making a dinner reservation or checking Glassdoor before taking a new job, people want more information, more often, with more personal relevance. They want to understand a company's impact on society and where the products they consume come from. They want to know how governments steward public dollars. They want to know how social sector organizations allocate resources to address pressing challenges.
In an exponentially expanding sea of information, no company can hide, and brands that deliver more gain trust. Data shows that people trust the brands that embrace the transparency imperative. Millennials view companies that include customer feedback on their websites as "honest" (66%) and "credible" (53%). Seventy-one percent of consumers consider a company more trustworthy if its leadership team uses social media to openly communicate about its core mission, values, and purpose.
The headwinds facing the private sector are clear: climate change, rapid population growth, and widening income inequality have forced corporations to be part of the solution, albeit sometimes imperfectly and incompletely. Most people are sophisticated consumers of content, adept at identifying when a company is greenwashing its commitment to social impact or speaking truth. In response, many companies have upped their game to earn consumer confidence through open and transparent communication on all channels at all times. Paul Polman knows that to do any less is to risk losing customers or worse, license to operate in important markets around the world. Embracing transparency provides a pathway for companies to measure progress, better understand their impact, and foster a broader culture of accountability that, in turn, builds trust among consumers and stakeholders alike.
Companies Embrace Reporting Over Reports
Yet, earning trust relies on both a mindset that embraces the value of transparency and the infrastructure in place to measure and analyze the right information. External transparency requires that companies build internal infrastructure that allows their leaders to effectively measure their outputs and outcomes. The old adage, "What isn't measured, isn't managed," holds true. With rigorous reporting processes, companies can better identify and address both risks and opportunities, revealing weakness in a supply chain or anticipating changes in consumer demand. Intentional reporting can help a company continue to transform, grow, and ultimately be more successful.
Almost three quarters of the largest 250 companies now report on their sustainability efforts. Yet, despite the reporting and transparency imperative, many companies struggle to build effective reporting systems. In the last 20 years, companies have increasingly adopted global standards like those created and supported by GRI, a framework that helps corporate leaders assess non-financial risk and identify issues that most directly affect their bottom line. In fact, sustainability and social impact reporting frameworks are helping advance the very concept of materiality to include impacts far beyond economic conditions, which in turn help business leaders manage against the full context of operations.
Knowing what to share, when, and with whom is also evolving. More and more, consumers are demanding companies shift away from static once-a-year reports heavy on dense statistics to continuous reporting and communication in the form of stories, real-time dashboards, and infographics. Companies such as Kimberly-Clark and Sealed Air have started leveraging their annual sustainability report as the launch of an ongoing story-driven multi-channel communications effort that seeks to engage with, not report to, stakeholders. Other companies, like Coca-Cola, have created immersive sustainability content platforms to tell a full circle story, making each step in the sustainability journey accessible.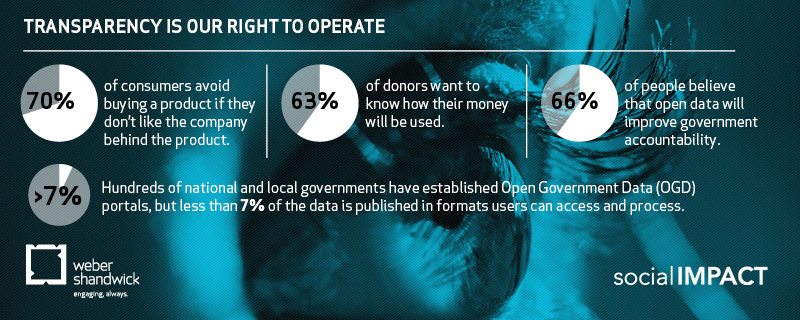 Transparency Drives Engagement and the Bottom Line
As brands look to drive engagement with their audiences, transparency is a necessary element of their communications strategies and several best practices can help shape an organization's communications.
1.Don't only embrace authenticity, make it relevant.
Having reached a tipping point on reporting and measurement, companies are now moving beyond dry, often meaningless statistics, taking that information and turning it into compelling stories and data visualizations. The real industry leaders are also fostering greater engagement with their consumers by making sustainability information relevant, not just available. Unilever understands this and not only tracks its own progress against sustainable business goals, but also empowers consumers to live "well and within the natural limits of the planet," with practical tips and information. The result is more than a brand halo: their brands most aligned with their sustainability plan have the highest sales growth.
2. Welcome consumer feedback and stories.
Social media has created more avenues for two-way dialogue and discussion rather than one-way broadcast message delivery many companies used to favor. Brands that lean into this reality create more engagement opportunities and, as a result, convert consumers to brand ambassadors. Or, think about it another way: free advertising. REI's Black Friday campaign shows this in action. The company did the opposite of what a consumer would typically expect from a retailer on the blockbuster shopping day. It announced it was closing to allow employees and customers to spend time outside and invited everyone to share their stories using the hashtag #OptOutside. The company reaped the rewards of a strong social conversation that praised the company's position.
3. Make the business case.
There was a time when it verged on unseemly to link the philanthropic and purpose-driven efforts of a company to its larger business goals. Not only has that changed, key stakeholders including shareholders want to see how research and reporting on purpose-driven initiatives link to the bottom line. What's more, they are willing to direct their investment dollars into companies that demonstrate how impact and results drive performance and profits. The rise of B-Corporations—a legal designation that requires companies to meet rigorous standards of social and environmental performance, accountability, and transparency—shows that there is a growing demand by shareholders who expect more than just maximum financial return at any cost.
The Future of Profit and Purpose in a Transparent World
Companies and other organizations that have traditionally been reluctant to hold themselves up to greater public scrutiny are now feeling the effects of a rapidly increasing demand for transparency. They will quickly discover what Unilever, REI, Kimberly-Clark, Sealed Air, Coca-Cola and other companies have known for some time: transparency isn't just a virtue, it makes good business sense.  Companies that continue to embrace a compliance mindset and only reactively share information are missing out on market opportunities. Nielson data show consumers are willing to pay extra for products and services from companies that contribute to positive social and environmental impact, and this trend has only continued to increase from 45 percent in 2011 to 55 percent in 2014. While preference does not always convert into profit, the success of Unilever's purpose-driven brands demonstrates that consumers are willing to align purpose to their purchasing power. Embracing the consumer demand for always-on transparency can help companies make a lasting investment in their bottom line and, in the process, strengthen their commitment to building a better world.

Victoria Baxter is a Senior Vice President and Americas lead for Weber Shandwick's global Social Impact practice – a team that works at the intersection of corporate social responsibility, sustainability and social issues.