In 2011, Sam Allen, Deere & Company's Chairman and CEO, led a team from John Deere on a week-long corporate service experience in Rajasthan, India. Following this engagement, the John Deere Foundation decided to fund a five-year community development project in three rural villages. Focused on three key areas—agriculture and income security, education, and infrastructure—the project, created in partnership with PYXERA Global, seeks to foster economic growth and improve the quality of life for those residing in these villages.
Following a needs assessment in the fall of 2012, the Joint Initiative for Village Advancement (JIVA) was up and running by January 2013. The project's multipronged approach includes renovating schools, training farmers in new agricultural practices, and increasing opportunities for children to stay and perform better in school. In less than two years, the results have been extraordinary:
100 percent of all drop-outs are enrolled in JIVA's after-school tutoring program
More than 80 percent of students enrolled in the program showed improved school exam scores
More than 120 percent increase in students passing the Class 10 Open Exam from 2013 to 2014
More than 70 percent of participating farmers have adopted some improved agricultural practice
Close to 15 percent of all farmers have adopted a diversified cropping system with higher-value crops
138 farmers have increased profits by more than $2,800 collectively
Two village schools have been fully renovated, including new toilets fitted with solar pumps for the supply of water, new water purifier systems for safe drinking water, kitchens and dining halls, external repairs, and classroom refurbishing. Villagers have contributed more than $7,000 USD to school infrastructure improvements.
The project's robust monitoring and evaluation strategy has allowed it to adapt and realign plans to meet on-the-ground realities. Its early successes can be attributed to this participatory approach that recognizes that people make decisions based on what they think is best given their circumstances. Taking the opportunity to ask "What?" and "Why?" before "How?" is a differentiation sometimes overlooked in development, but necessary for achieving impact and sustainability in any intervention.
In the two years since its launch, the project's impact has gone far beyond the quantifiable statistics reflected above. The people in JIVA communities are driving change. There are a number of individuals whose success is worth sharing. The following are just two case studies that show JIVA's impact beyond planned outcomes.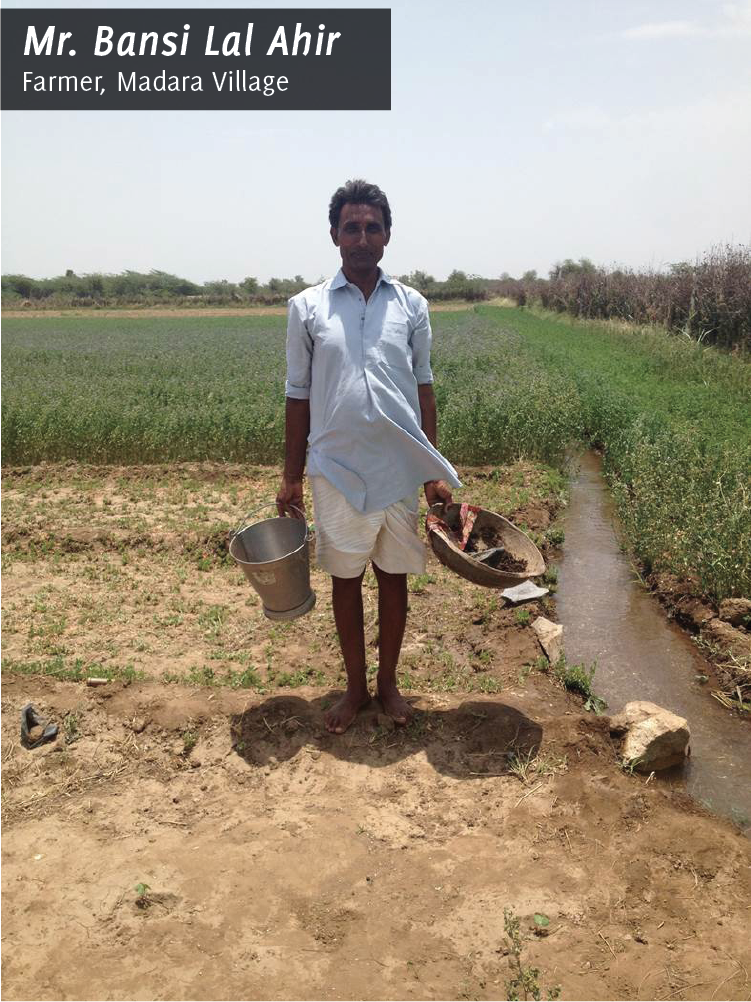 The first time Bansi heard about JIVA was in February 2013 when a neighbor recalled interviewing with a team from John Deere, PYXERA Global, and local NGO Jatan Sansthan, for a needs assessment a few months prior. He, too, had participated in those meetings and was eager to learn the outcome of the study and what the project would be doing in his village. There was a village meeting to discuss the upcoming agricultural activities scheduled later that week.
Bansi left that first JIVA meeting interested though somewhat skeptical of the "demonstration plot" trainings they would be offering to farmers. Fellow farmer, Nanu Ram, offered to be a demonstration plot farmer for the next two seasons. Out of curiosity, Bansi started working with Nanu Ram from time to time and attended trainings to see what would happen to his crops.
The following year, Bansi ploughed his land prior to the Kharif season (a practice he knew was beneficial, but often opted not to do during the hot season), tested his soil and water supply, and sowed his wheat in rows as per JIVA recommendations. He used a bio-pesticide and constructed a vermi-compost pit as an alternative to the traditional method of applying dried cattle dung as fertilizer.
Bansi became worried when the JIVA Agriculture Specialist advised him to skip his usual second pesticide application; however, as the cotton began to grow, Bansi quickly realized this was going to be a good season for him. Farmers visiting his field also noted the height of his plants, already a foot taller than they usually were this time of year. In December, Bansi calculated that his cotton recorded an increase in yield of 11 percent, resulting in an additional profit of 1,840 Indian Rupees (or $31) per bigha (0.16 hectare).
In addition to helping farmers increase their production and profitability of existing crops, JIVA planned to rotate demonstration plot farmers in year two and select farmers interested in installing net-houses to grow fruit and vegetable seedlings to sell to other farmers in the village. This time, Bansi didn't hesitate to volunteer. He used his nursery under JIVA's guidance to grow papaya and pomegranate seedlings supplied by JIVA. Soon, Bansi's neighbors were lining up to purchase his seedlings. That summer, Bansi sold seedlings worth 6,400 Indian Rupees (or $103 U.S. Dollars) and recovered about 90 percent of the total cost of the net-house installation. He also planted 100 papaya and 600 pomegranate seedlings on his own plot.
As he calculated his earnings, Bansi began making plans for the following year. He expanded his nursery to include tomato cultivation and installed a subsidized drip irrigation system with JIVA's guidance. He has already planted bottle gourd, watermelon, cluster beans, and amaranth for market. In 2015, he plans to invest more of his profits in additional livestock, and by 2016 he will be ready to start a home delivery business with his son. His additional yields and profits will help him turn his farm into a delivery service, providing fresh produce to villagers directly to save them the lengthy and costly trips to and from the market. These days, JIVA brings other farmers to Bansi's field on a regular basis to demonstrate the value of crop diversification, and Bansi offers them advice on ways they, too, can turn their fields into more lucrative businesses.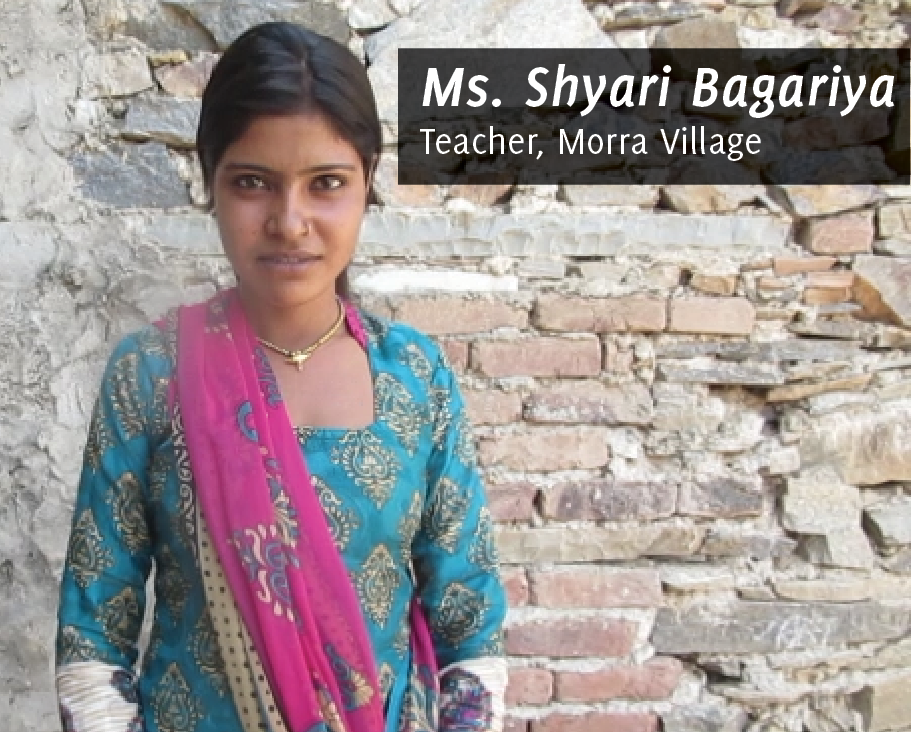 Shyari Bagariya was excited to learn that she was hired as a teacher for JIVA's new Education Resource Center (ERC) in Morra beginning in May 2013. There would be two centers in the village—one for children of the Bagariya community, where she is from, and one for everyone else. She would provide tutoring in all subjects to children during the afternoon hours, although none of the Bagariya children were enrolled in school.
The Bagariya tribe, often landless, is considered a low caste in India. In Morra village, Bagariyas live in a small settlement on the outskirts of the village, and migrate for four to seven months each year to sell brooms and beg on the streets of busy cities like Mumbai and Chandigarh. Historically ostracized by the rest of the village, Bagariyas are not allowed to purchase anything from the stores in Morra and must travel three kilometers to Railmagra to purchase everyday items and food. Few Bagariya children attend school, and those that do sit apart from their peers in class and are often behind in studies as they cannot attend regularly due to their families' migration.
JIVA had been meeting with the parents for several weeks prior to the center opening, and their initial commitment to the program was promising. When the ERC classes began that May, Shayari was surprised to see that all 13 children from the community were coming regularly. Bagariya homes are usually small huts, so most classes were held outside on a mat. Because all 13 children had previously dropped out of school, they were not used to sitting in class for hours at a time. To keep their interest, Shayari worked with the JIVA Community Education Officer to develop curriculum that incorporated various learning aids and games.
By July, all 13 children re-enrolled in the village Government school. However, when October came around, seven of the children left to migrate to other cities with their families. They would not return until spring, just before exams. Although this was discouraging, Shayari felt they had also made a small step forward because the families of the other five children left them behind with extended family to continue their studies.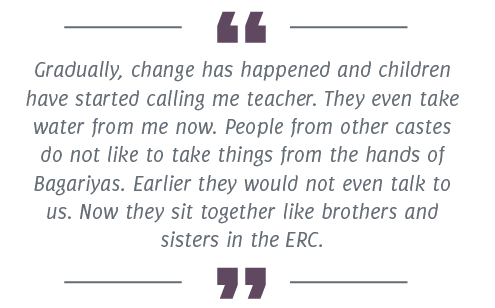 When school let out for the summer, children continued to go to the JIVA ERC in the afternoons. Enrollment was growing steadily at the main ERC and there was a demand for a second center. JIVA decided to move the Bagariya center to the nearby Anganwadi (pre-school) located within the village boundaries. Shayari was unsure about the change at first, but was surprised to see how quickly the children adapted. "Children from the rest of the village would not come to the ERC in my locality. But Bagariya and children from other castes have started studying together after the ERC was moved to the Anganwadi. Gradually, change has happened and children have started calling me teacher. They even take water from me now. People from other castes do not like to take things from the hands of Bagariyas. Earlier they would not even talk to us. Now they sit together like brothers and sisters in the ERC."
Earlier, the Bagariya children faced teasing and bullying at school, but gradually the other students started to accept them. During a visit to the school with the JIVA Community Education Officer, Shayari noticed that the Bagariya children were sitting side-by-side with other children, particularly in the younger classes—something she never thought she would see.
When school started again in the fall of 2014, all thirteen children were enrolled in school. Level performance testing showed significant improvement in school exam scores, particularly among the five students that didn't migrate that year. A couple now ranked among the top five performers in their class at school. Shayari is working diligently to ensure they will pass their upcoming exams in spring 2015. When she looks back over the last two years, she continues to be surprised by the remarkable progress made. Shayari has always been an exception to the rule in her community, but now she is an integral part in ensuring others have the opportunity to follow her lead in receiving a quality education.
Feature photo Ana Raquel S. Hernandes | CC BY-SA 2.0

Virendar Khatana is a Social Scientist with more than 20 years' experience in sustainable agriculture, rural livelihoods, food security, natural resource management, forestry, watersheds, climate change, participatory community development, education, Corporate Social Responsibility (CSR) and socio-economic research. He is currently the Country Director of the Joint Initiative for Village Advancement (JIVA).