Written by Andrew M. Herscowitz, Coordinator for Power Africa, and  Katrina Pielli, Senior Energy Advisor, U.S. Agency for International Development.
Four years ago, startup Off-Grid Electric, a founding partner of Power Africa Beyond the Grid, set out to address the electricity access gap in Tanzania. After an early-stage grant from USAID Development Innovation Ventures and project preparation support from the Africa Clean Energy Finance program, along with private equity and debt, the company announced in early 2015 a goal to bring affordable electricity to one million Tanzanian homes by 2017.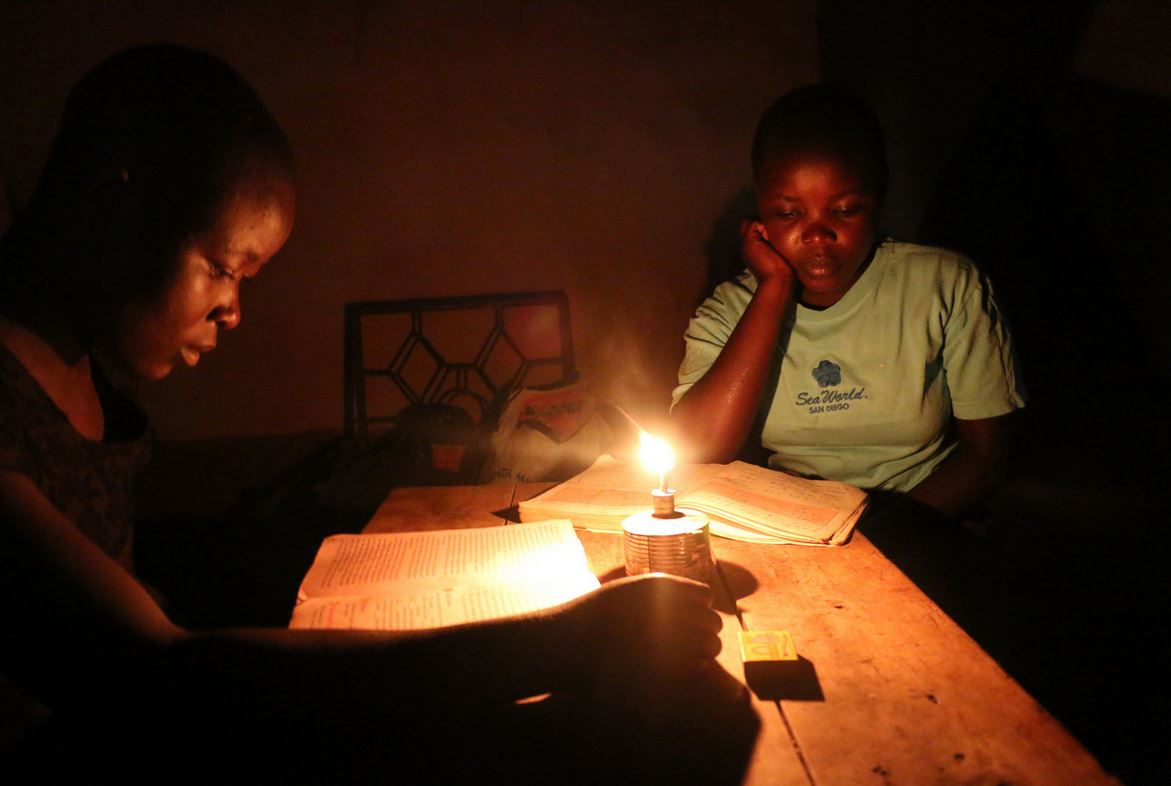 Nearly 600 million people in sub-Saharan Africa — two out of three — lack access to electricity. Rural electrification rates are well below five percent in many sub-Saharan Africa countries — the lowest in the world. Recognizing that Power Africa cannot achieve energy access goals exclusively through the use of large grid extension projects, Power Africa launched Beyond the Grid in June 2014, a sub-initiative  to unlock investment and growth for off-grid and small-scale energy solutions on the African continent. Increasing access to reliable and affordable electricity is a key element in poverty eradication and economic growth in sub-Saharan Africa.
Power Africa is working to create linkages among African governments, private sector investors, and other partners in sub-Saharan Africa to add more than 30,000 megawatts (MW) of cleaner, more efficient electricity generation capacity, as well as increase electricity access by adding 60 million new home and business connections. These goals are ambitious — for example, the International Energy Agency states that grid-based generation capacity in sub-Saharan Africa is 90,000 MW today — approximately half of which is in South Africa.
Major metropolitan areas are first to benefit from grid expansion, whereas the deep rural areas may remain unserved for decades.  Beyond the Grid drives private investment in off-grid and small-scale energy solutions, like solar lanterns, solar rooftop systems, mini-hydro and mini-grids, to ensure that people living in remote areas also have access to power. Beyond the Grid utilizes Power Africa's innovative transaction-focused model to accelerate transactions and drive systemic reforms to facilitate future investment in off-grid and small-scale renewable energy solutions under 10 MW across sub-Saharan Africa. Examples of the tools and resources available for Power Africa Beyond the Grid are listed in the Toolbox, which is described in more detail on the Power Africa website.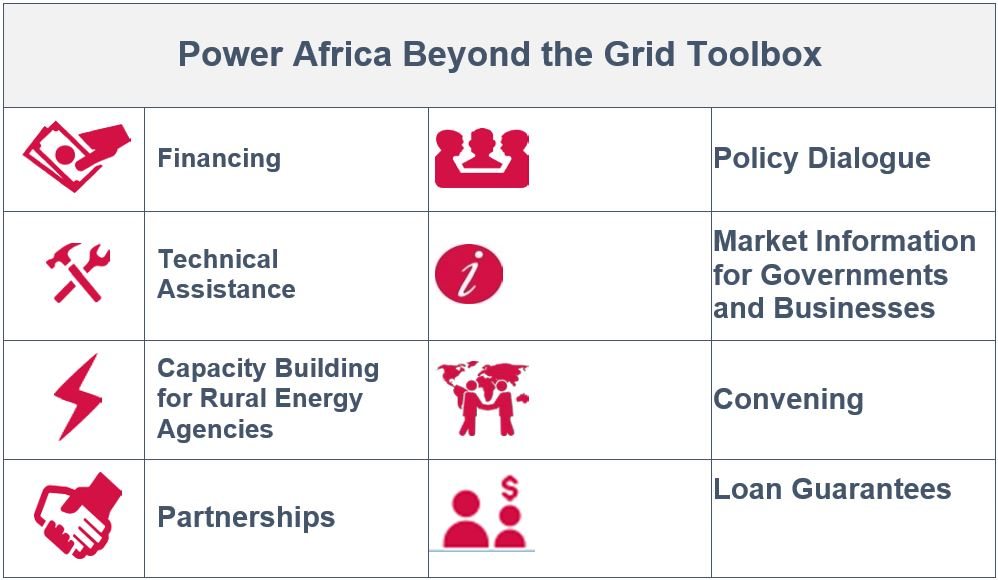 Beyond the Grid focuses on two strategic priorities that will together help create 60 million new home and business connections. First, addressing recurring market constraints in the off-grid energy market by increasing access to financing and providing technical assistance. Second, striving to achieve scalable, cleaner solutions that offer electricity access greater than the first tier of task lighting. To achieve this, ensuring enabling environments are supportive through regulatory and policy regimes is critical to facilitate private sector success.
Addressing Market Constraints
Bolstered by the decreasing costs of technology and innovative financing options, private sector-led business models for off-grid and small-scale energy solutions are succeeding in the marketplace. For example, Power Africa partners such as d.light, and Off Grid Electric are quickly ramping up distribution of their solar home systems in East Africa.
"Just as mobile phones adoption rates skyrocketed in the '90s, we see tremendous opportunity in the off‐grid solar market to enable consumers to secure basic energy access and radically improve their lives and opportunities," says Sam Goldman, d.light co-founder.
Beyond the Grid's current project portfolio of over 100 projects spans the full range of off-grid solutions and small-scale renewable technologies, and touches countries across sub-Saharan Africa. A host of partners, including USAID, OPIC, and The U.S. African Development Foundation (USADF) have funded companies and projects that will expand generation and access. A diverse set of projects leverage a diverse range of resources to improve off-grid generation, as illustrated below.
For example, in Kenya, a biomass project uses an invasive tree species to generate electricity for local industry. The program will be expanded to 15 systems that will make use of locally available invasive species or biomass waste, such as macadamia shells, coconut shells, and bagasse from other industries. In Tanzania, Beyond the Grid is developing a portfolio of several mini-hydropower schemes. USADF is supporting mini-hydro and solar mini-grids, as well as a solar lantern franchise that is accessible to women entrepreneurs. In Ethiopia, USADF is working on an innovative financing scheme for solar home systems.
In Ghana, USADF is supporting the development of a portable solar charging system for mobile phones, allowing the vendor to set up the system which forms part of his storefront. In Liberia, USAID is supporting a run-of-river mini-hydro project and a biomass to biodiesel project using palm oil that will run a small generator. In Rwanda, an 8.5 MW grid connected solar PV system has been installed at the Agahozo Shalom Youth Village (ASYV) by Gigawatt Global with support from ACEF. Apart from the supply of electricity, the ASYV is providing jobs, ongoing education in solar PV, and a steady rental income for the solar farm.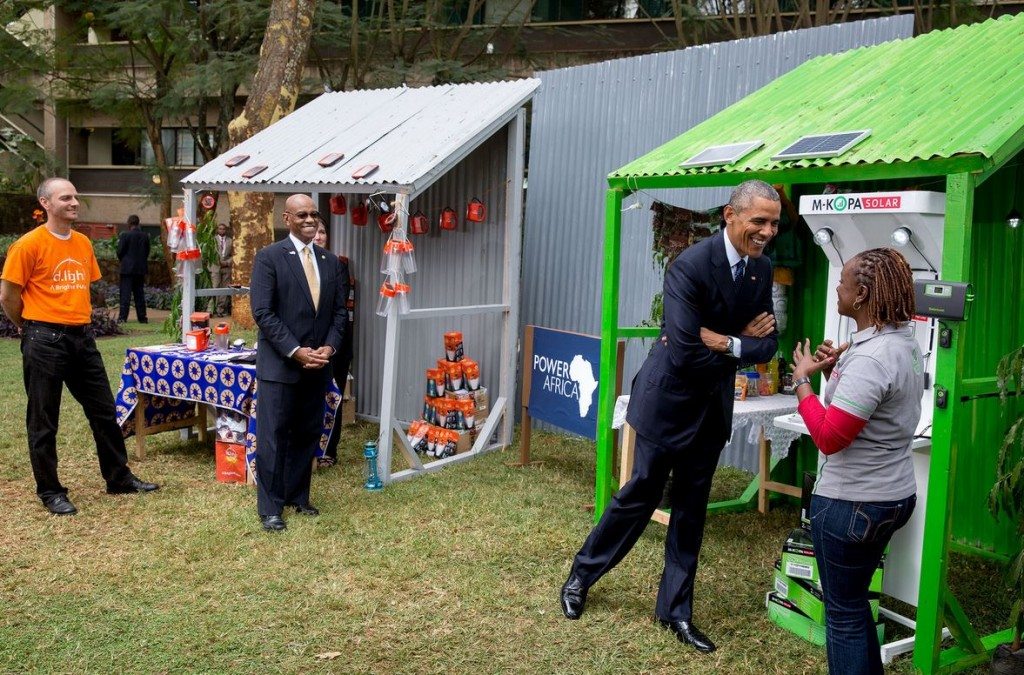 Supportive Enabling Environments
Beyond the Grid supports effective regulatory and policy regimes that create an enabling environment for the private sector. Existing policies and regulatory frameworks are not always conducive to new and emerging business models enabled by rapidly transforming technologies like mobile money.
For example, Power Africa, the World Bank Group, and the Government of Ghana are collaborating on sector reform issues, including tariff reform, private sector participation, and securitization for natural gas and electricity supply chains. In August 2014, the Millennium Challenge Corporation signed the Ghana Power Compact, an investment of up to $498.2 million to support the transformation of Ghana's electricity sector and stimulate private investment, which has bolstered the Electricity Company of Ghana and transparent quarterly updates for cost-reflective tariffs. Ensuring that tariffs fully reflect the cost of producing power is critical to the liquidity of the institutions in the sector and helps attract investors who can be confident that their investments will yield a return.
Sam Goldman, d.light co-founder, says public-private partnerships are key to bringing energy access to the most rural parts of Africa. "Market‐based approaches and policy decisions working together will accelerate efforts to electrify Africa."
Partnerships:
Power Africa seeks opportunities to bring together private-sector entrepreneurs, financial and donor institutions, and national governments to achieve the program's objectives.
In September 2015, MCC signed a $375 million Benin Power Compact, which includes a $28 million contribution from the Government of Benin, which aims to strengthen Benin's national utility, attract private sector investment, and fund infrastructure investments in electric generation and distribution as well as off-grid electrification for poor and unserved households. This Compact represents MCC's largest investment to date in solar power and the largest U.S. investment to date in off-grid electrification.
USADF, in partnership with the U.S. Agency for International Development (USAID) and General Electric Africa, supports the Off-Grid Energy Challenge, which provides $100,000 grants to entrepreneurs and private organizations developing innovative off-grid technologies. The Challenge is entering its third round, having already provided support to 28 small enterprises over the past two years. In addition to providing 11 grants, the third round is opening entries to three new countries in East Africa—Rwanda, Uganda and Zambia. The challenge impacts over 150,000 people underserved by the traditional electric grid. By the completion of the third round, the challenge will have awarded $5.0 million through 50 individual grants.
OPIC, part of the Africa Clean Energy Finance (ACEF) program, has already committed more than $9 million so far to project preparation support to help get early-stage solar, wind, biomass and hydropower projects off the ground in Tanzania, Rwanda, Ethiopia, Namibia, Kenya, Uganda, Nigeria and Senegal. OPIC has developed a new process called the Innovative Financial Intermediary Program (IFIP) to help us support atypical deal structures and propose pooled capital such as an investment fund, as well as debt financing, such as OPIC's traditional loans and guaranties. Finally, OPIC has also developed a new tool called Portfolio for Impact (PI), which essentially helps facilitate highly impactful early stage projects.
The USAID develops the off-grid and small-scale renewable energy sectors through its instruments, including the Development Innovation Ventures and the Development Credit Authority. Development Innovation Ventures (DIV) is a competitive grants program that support innovative ideas that provide support to innovations that, through rigorous analysis, demonstrate real-world viability and convincing evidence that the private sector will invest in scaling up their scheme. "Because of USAID's Development Innovation Ventures' catalytic support, we were able to get here. We have raised millions in venture capital, putting our mission to light millions of African homes in the next decade into our sights," said Erica Mackey, Off Grid Electric co-founder. The USAID Development Credit Authority (DCA) provides risk guarantees to financial institutions to ensure that otherwise unsupported enterprises can receive financial assistance.
Power Africa Transaction Advisors, who provide project development advisory support to project sponsors in the public and private sectors. This support can extend beyond project specific assistance to technical advice on national renewable energy programs and regulatory refinement to promote private investment in off-grid cleaner energy solutions, encourage and support rural electrification and reduce restrictions on importation of renewable energy sector equipment.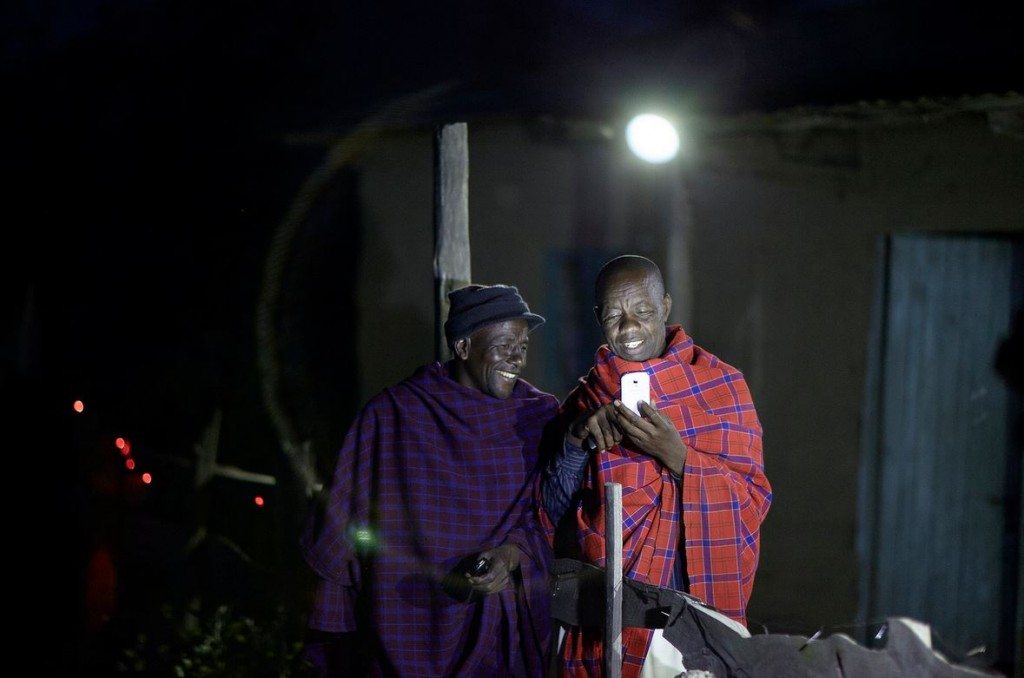 A Bright Future
Power Africa's over 100 private sector partners have committed more than $20 billion toward specific projects, including $1 billion in commitments under Beyond the Grid to ensure that people living in remote areas have access to power. Beyond the Grid will continue to galvanize collaboration, engage in critical actions to accelerate transactions, and drive systemic reforms to facilitate future investment in off-grid and small-scale energy solutions.
Power Africa partner, Off Grid Electric's goals in Tanzania and beyond are an essential part of Power Africa's larger effort to create 60 million new home and business connections throughout all of sub-Saharan Africa. "When people look back at this decade, they'll remark that this is the period when Africa went solar," said Erica Mackey, Off Grid Electric co-founder. "Power Africa will enable a continent to communicate on charged mobile phones and computers. It will enable a continent to perform better in their studies because they can do their homework after the sun goes down, enabling a more productive and healthier society."
For more information: www.usaid.gov/powerafrica or email [email protected]
Photo from Power Africa.

Katrina Pielli is a Senior Energy Advisor to Power Africa at the U.S. Agency for International Development (USAID), secunded from the U.S. Department of Energy (DOE). Ms. Pielli focuses on energy access issues in sub-Saharan Africa.